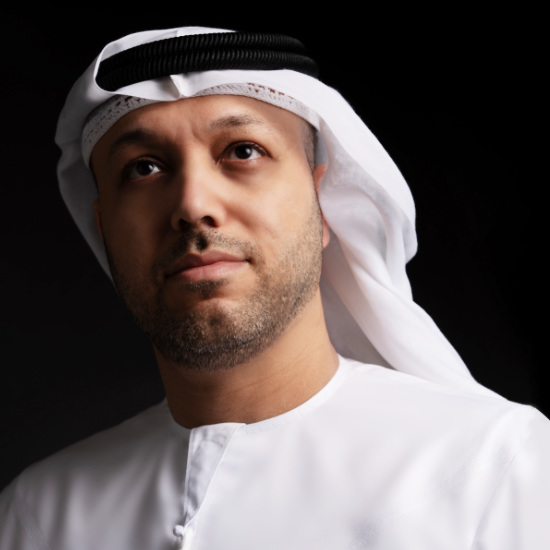 Ihab Darwish
InterContinental Music Awards Winner
2023 – Best of Middle East | Art Music
---
Ihab Darwish, Emirati artist and composer, Founder and President of the Emirati Musicians' Association, Grammy Recording Academy voting member. He has played music since ten. Graduating in Advertising and Art Design, he has pursued a career of image and sound fusion to become a recognized composer.
In 2017 a breakthrough was cooperation with the Beethoven Academy Orchestra in Poland. His first album "Waves of My Life" was launched in 2018, reaching audiences through International distribution by Universal Music MENA. The premiere of his orchestral work: "Waves of My Life: Every Real Story Begins with a Note" was held in 2018 at the prestigious Emirates Palace for the Abu Dhabi Festival. This performance left the audience captivated and eagerly anticipating Darwish's further development.
In March 2018 Darwish was bestowed 'First Guest Composer' by the Beethoven Academy Orchestra and invited to participate as Ambassador of the Euro Mediterranean Music Academy – EMMA for Peace. In the same year, Darwish composed music for the award-winning documentary "She" (2018) directed by Philip Rashid. A further unique collaboration saw Darwish composing a piece of signature music for Zahra Lari, the UAE's first figure skater, to be used in her performances worldwide.
In 2019 Darwish worked in collaboration with the Emirates' Ministry of Education on the historic theatrical performance 'Voice of Tolerance' produced by Dragone and staged at Le Perle in Dubai. The same year Darwish was invited to be a key composer at the 48th UAE National Day celebrations. This government invitation was for the show "Legacy of Our Ancestors", it was attended by the UAE leadership, royalty, and international dignitaries amongst the 14000-strong audience and his music has been performed by the Royal Philharmonic Orchestra in London.   
In 2020 Darwish was commissioned by The Palm Fountain (Dubai, UAE) – world's largest fountain by the Guinness Book of World Record, to compose an official musical theme "Aim For The Sky" as a sonic brand and its signature music. The composition pays homage to the UAE's culture and captures Dubai's cosmopolitanism and is performed regularly at The Palm Fountain at The Pointe, Dubai, from  December 1, 2020.
In 2021 Darwish performed at Abu Dhabi Festival with his symphonic work Hekayat: Symphonic Tales. His music traversed the globe in 13 compositions and was performed by 128 musicians in 20 countries, capturing the musical traditions and cultures of five continents while making history as the first performance of its kind by an Emirati artist. With musicians, performers and the orchestra filmed individually in 21 cities around the world, the symphony required 675 zoom sessions and 86,600 man-hours of planning and production. The individual performances were synchronized digitally, and innovative post-production technology placed all 128 artists on a virtual 3D model of the stage. The virtual concert broadcasted internationally had more than 10 million views. The album under the same title was released by Universal Music MENA.  Next year, in February 2022 Ihab Darwish was invited to perform his music at EXPO202 in Dubai. 
In 2022  Darwish, in collaboration with Emmy-winning composer John Debney and Academy Award-winning composer David Shire, premiered The Symphony of Three – the world's first interfaith symphony to celebrate the historic opening of the Abrahamic Family House in Abu Dhabi, UAE. Bringing together top international composers, musicians and vocal ensembles from Christian, Jewish and Muslim backgrounds, the symphony celebrates unity and peace amongst different faiths and had its premiere in December 2022. Comissioned by Abu Dhabi Festival.