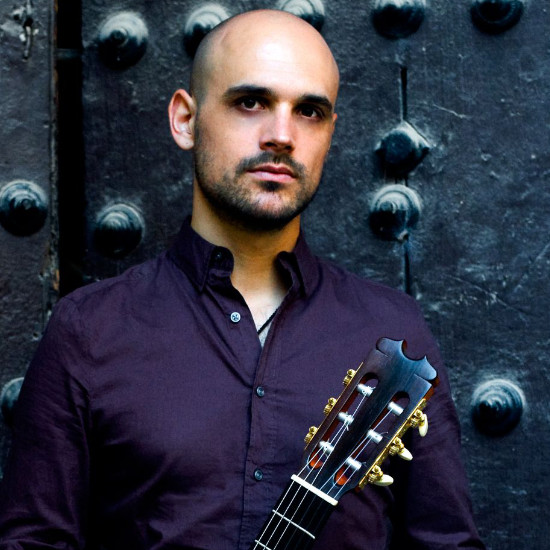 Yannick Corre
Yannick Corre: Award-Winning Flamenco Guitarist | Composer | Producer | Multi-Instrumentalist
Yannick Corre, acclaimed for his Flamenco artistry, secured the InterContinental Music Awards' "Best of Europe" title in 2023. His 15-year residence in Seville was an era of remarkable artistic growth, showcasing his exceptional solo performances and notable collaborations with renowned vocalists and dancers.
Driven by a thirst for musical innovation, Yannick delved into diverse fusion projects, embracing jazz, classical, salsa, samba, joropo, and contemporary dance. His recent move to Madrid signals a new chapter in his quest for musical diversity.
Yannick's musical journey began at age 4, with the piano, later evolving into a dedicated pursuit of Flamenco guitar at 14, following classical training. In Seville, he studied under the mentorship of distinguished Flamenco guitarists, attaining a scholarship at the prestigious Cristina Heeren Foundation of Flamenco Art in 2011. In 2017, he earned a higher degree in flamenco guitar from the Superior Conservatory of Cordoba.
Beyond his instrumental prowess, Yannick excels in composition and production. He has lent his talents to various fusion and experimental projects, recently directing and arranging the acclaimed "La leyenda del tiempo" at the Flamenco Oslo Festival. His work on Ingrid Jasmin's album, "Luna," earned a Norwegian Grammy in April 2023. Additionally, he composed music for dance performances, such as "Bruja" in Montmélian, France.
Yannick has graced stages worldwide, collaborating with esteemed artists like Andrés Marín, Adela Campallo, and many more. His debut solo album, "Diégesis," released in November 2022, showcases his unique musical universe.
AWARDS:
Norwegian Grammy Awards 2023 with the album "Luna" by Ingrid Jasmin
1st prize of the Albi International Flamenco Guitar Competition 2019
3rd prize in the "Niño Miguel" flamenco guitar competition in Huelva 2021
Finalist in the International Flamenco Guitar Competition "Niño Ricardo" 2019
4th prize of the Seville International Flamenco Guitar Competition 2017
Finalist in the "Fidelio" Guitar Composition Contest in Madrid 2016
4th prize of the International Competition "Paco de Lucía" of Seville 2016
Yannick Corre: Elevating Flamenco with Award-Winning Artistry and Multifaceted Musical Mastery.