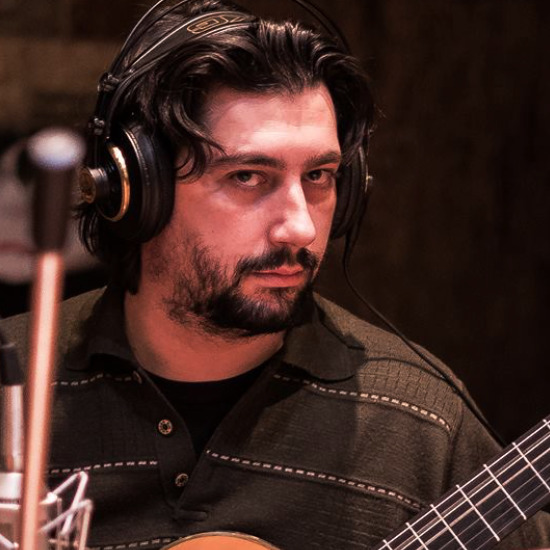 Yorgos Karagiannis
Yorgos Karagiannis: As a mathematician, composer, and writer, I have blended my passion for numbers and music into a remarkable journey.
For the past two decades, I've served as a Math, Music, and Guitar Teacher, guiding thousands of students aged 16 to 20 through school, national exams, and university preparation. My dedication to music composition has earned me accolades in prestigious world competitions such as the Maurice Ravel, Great American Song Contest, and Film Music Contest.
In addition to teaching and composing, I've authored four music books, released seven classical music albums, and a couple of singles. I am an active contributor to both the fields of mathematics and music.
My musical expertise spans an impressive array of instruments, including Classical and Electric Guitar, Bass Guitar, Piano, Bouzouki, Tampoura, Sazi, and Oud. I possess exceptional proficiency with instruments played using nails or picks and have a deep understanding of Byzantine music.
Educational Journey:
1993–1999: Music High School of Ilion
1999–2005: University of Ioannina, Bachelor's degree in Mathematics
2006–2007: Athens University of Economics and Business, Certificate in Applied Statistics and Probabilities for Teachers
2006–2009: Municipaty School of Moschato, Degree in Western Music Harmony
2009–2012: Municipaty School of Moschato, Degree in Counterpoint
2014: Municipaty School of Moschato, Degree in Classical Guitar
2017: Hellenic Open University, Master's degree in Mathematics
Honors and Awards:
1998: Special Mention from the Greek Ministry of Education at the National Classical Guitar Contest
2015: First Place for the Nation Greece from Associazione Ravel at Maurice Ravel International Composition Competition in Italy
2016: Finalist at the Great American Song Contest
2016: Third Prize from Associazione Ravel at Maurice Ravel International Composition Competition
2017: Special Award from Associazione Ravel at Film Music International Composition Competition
2018: Honourable Mention from Associazione Ravel at Maurice Ravel International Composition Competition
2020: Finalist at the Great American Song Contest
2021: Finalist at the Great American Song Contest
2023: Outstanding Achievement in Songwriting and Top 5 Winner at the Great American Song Contest
I embrace open-minded individuals, as I firmly believe that teaching is a gateway to their discovery. As a husband and father of two children and a Mensa member, I'm dedicated to sharing the power of music, education, and creativity with the world