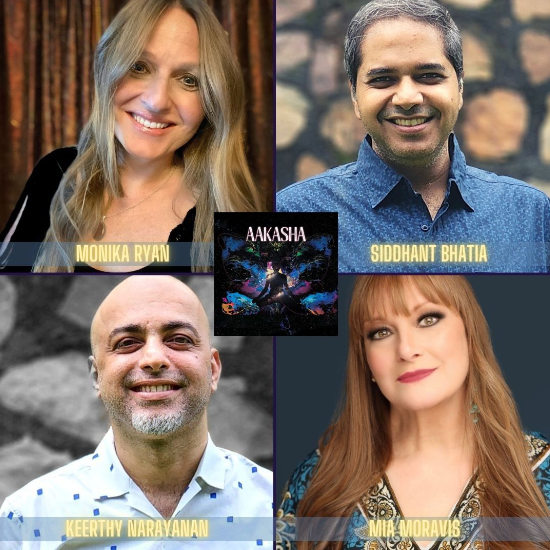 Aakasha
InterContinental Music Awards Winner
2023 – Best of Pangea | New Age
---
Aakasha is an album—and Aakasha is an ensemble, consisting of four core creators/producers: 
Keerthy Narayanan, a GRAMMY®-acknowledged Arranger on the GRAMMY®-nominated album, Love Language, and the GRAMMY®-winning albums, Winds of Samsara, and Divine Tides; Mia Moravis, a Tony®-nominated Broadway producer (Tony®- and GRAMMY®-winning Alanis Morissette's JAGGED LITTLE PILL Musical) and three-time Emmy®-nominated producer, Remi Award®-winning filmmaker (Gold Special Jury Prize—Documentary), and GRAMMY®-acknowledged participant in several nominated/winning albums; Monika Ryan, internationally celebrated jazz singer and songwriter, a Global Music Award winner, and Owner of Resensitize Records, New York, NY; and creative visionary Siddhant Bhatia, Owner of SoulTrax Studios, New Delhi, India. 
These four illustrious members unite for this incredible album, and offer a never-before-heard genre-blend of New Age, Ambient, Chant, and Meditation music. 
Aakasha was made with love, for the purpose of reflecting, amplifying, and fortifying, the light in the caverns of the spirit within.