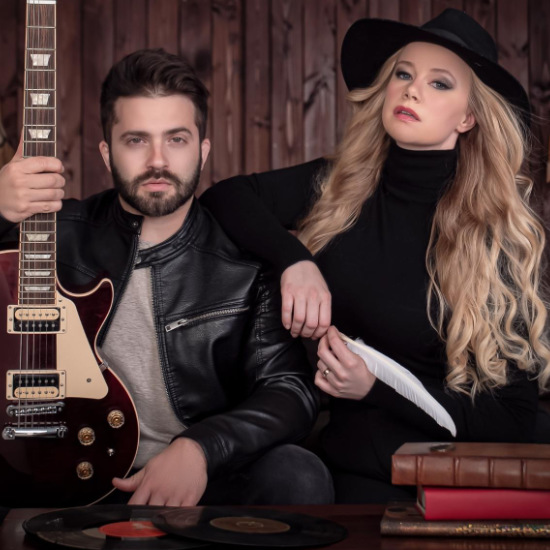 Meg Pfeiffer & Luca Stricagnoli
InterContinental Music Awards Winner
2023 – Best of America | Pop
2023 – Best of America | Rock
2022 – Best of America | Singer/Songwriter
---
The former Sony Music Singer/Songwriter Meg Pfeiffer and the world-class guitar player Luca Stricagnoli united for their first 22-track record, 'Unsent,' released on 11/11/22. Both are multi-award-winning musicians and producers who have achieved international success performing all around the globe, obtaining over 200M views on music videos and 20M music streams on their songs.
The married couple relocated to Nashville (USA) in 2023 with the intent of furthering their music career, film production, and record label. It has set the pace for a new hit album to become underway for 2024, as well as a debuting documentary about the hardship of indie musicians in the show business, produced and directed by Meg, estimated to be released by the end of 2023. Meg has already filmed, directed, and produced over 85 music videos for other musicians, Luca and herself. She also wrote and produced 32 singles and seven albums.
Furthermore, both are also famed for inventing the guitar ring and the triple neck guitar (designed by Luca) and have earned numerous accolades as artists. This includes but is not limited to winning Best Singer/Songwriter, Best Folk/Rock Album, and Best Folk/Rock Singer at the German Rock and Pop Awards, attaining First Place at European Songwriting Awards, several Global Music Awards, an InterContinental Music Award for 'Change The World,' and several prizes and nominations for their songs 'All Night Long,' 'Parking Lot,' 'Happy,' and 'Machine,' – and earning an endorsement deal with Yamaha Music, Lewitt Microphone and D'addario.
Luca Stricagnoli has been hailed as a phenomenon and a prodigy by influential magazines and newspapers all over the world, including NME, Guitar World, Der Spiegel, La Repubblica, and many more. In his career, he had the chance to share the stage with Grammy winners and nominees, including Jim "Kimo" West, Linda Briceño, Debashish Bhattacharya, and many other talented artists. Using up to five guitars in the same piece, modified capos, utilized violin bows, unusual tunings, and self-conceived stratagems, Luca continually leaves his audiences in awe and wondering what's next for the up-and-coming guitarist. These skills, combined with his multi-instrumentalist talent, allowed him to perform acoustic guitar, e-guitar, bass, mandolin, ukulele, guitalele, mouth harmonica, and many more on their duo album 'Unsent.' 
Meg has been writing songs since she was ten years old, and her collection of songs converted to her first album 'One' during High School and her second album 'Man From The Woods' at age 20. However, Meg later found a turning point in her career upon touring with an acoustic set. Catching the attention of producers while on stage, Meg landed the opportunity to sign with Sony Music/Columbia Records by age 22. During this time, she recorded hits at the esteemed Sound Emporium Studios in Nashville. She worked alongside iconic artists like Dave Roe, released her third album under Sony Music, and toured Europe. Renowned on national and international scales, Meg holds 1M+ streams only on Spotify, built on the foundations of authentic album and EP releases 'Nope,' 'Winter Tales,' and 'Unsent,' ranging from Pop, Rock to Folk.
Their 2023 is full of adventures. After moving to Nashville in the spring of this year, Meg and Luca were announced as the 'LIT of the Year' winner for their entry title' Machine,' released as an acoustic version in May 2023. Their official music video on YouTube counts almost 70k views and received several film prizes for Best Music Video and Best Costume.
Their single was streamed 80k times (as of August 2023) and keeps rising.