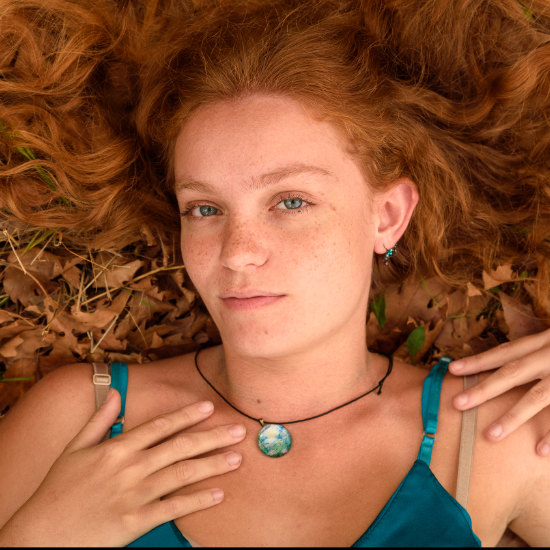 Penelope Broomhead Petromelidou
InterContinental Music Awards Winner
2023 – Best Vocalist
---
Penelope Broomhead Petromelidou: I am a dual national musician born and based in Thessaloniki, Greece. Currently,  I am completing my integrated masters at Aristotle University of Thessaloniki in the department of musicology with a GPA excellent.  While my main field of focus is music analysis, I also study classical singing and at the moment I am a contemporary vocal teacher at AMS Music School in Thessaloniki. 
I discovered I had a flair and love for music when I started my classical training in music at a young age with piano studies, choir and music theory. Later on, I studied Byzantium music practice and theory and Greek folk instruments such as santouri at the Music High School of Thessaloniki. There, I also began classical guitar training which I continued at the 'State Conservatory of Thessaloniki' and at the 'Municipal Conservatory of Thermi'.
 At the same time, I completed my theory studies (excellence), harmony and counterpoint certificate with Evangelia Kateli and my fugue certificate (excellence) at the State Conservatory of Thessaloniki under Kostas Tsougkras (2021), participating in music theory seminars.
My journey in singing started as young child with choir singing, performing in various concerts and choir festivals in Greece and abroad. In 2019, I joined the professional female ensemble "Voci Contra Tempo" as an alto/contralto and participated in the world premium of songs and concerts at the Berliner Philharmonic "homelands festival", at the International choral festival in Arezzo, Italy and others. I started classical singing lessons as a mezzo-soprano in 2021. 
In 2019 I received the 'Scholarship for enabling diligent students' by the State Scholarships Foundation (IKY). Through the years I have participated in singing seminars with Nikos Vasileiou, Penny Sofroniadou, and Angeliki Kathariou and this year an online course by Duke University on "Music as Biology: what we like to hear and why". I am fluent in Greek and English and I am currently studying Italian.
Ι have also performed as an artist in various ensambles and recordings such as "The dead brother's song" by Kostika Çollaku for the National Theatre of Northern Greece, in the upcoming rap album "Arte Povera" by Beats Pliz, "One Of Us" album by Simebol.