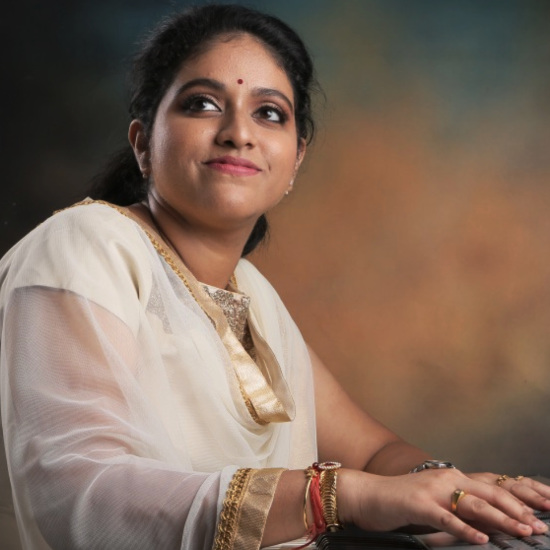 S. J. Jananiy
InterContinental Music Awards Winner
2023 – Best of Asia | Asian Folk
2023 – Best of Pangea | New Age
2022 – Best of Asia | Asian Pop
---
S. J. Jananiy is a Multi-Global-Award-Winning Composer, Singer, and Scholar who has received a prestigious Indian National Award & State Awards. She is a Composer, Film Score Composer, Singer-Songwriter, a Poly-genre Indie Artist, Carnatic & Hindustani Classical Vocalist, Western Classical Singer, Music Director, Music Producer, Arranger, Record Producer, Sound Engineer & more. 
A child prodigy with 25-plus years of music experience, "S. J. Jananiy" founded 3 Dot Recording Studios and JSJ Audio (her own label) in Chennai, India, where she produces and performs on select projects as a lead vocalist, playback singer, songwriter, music producer, record producer, instrumentalist (keyboard, piano, harmonium, percussionist). She often serves as a Music Director, composer and performer at live events and festivals, and is rated as an "A Grade" artist of All India Radio.
She is a Recording Academy/GRAMMYs Voting member.
A lifelong student of Brahmakumaris World Spiritual University, S. J. Jananiy has completed her Graduate degree in Economics (SMC, Chennai), an MA in Indian Music & M.Phil Music (QMC, Chennai), and, she is currently pursuing her Ph.D. – Research in Music. In Western Classical Music, she is an ATCL Vocal, Grade 8 in Western Classical Vocal, Keyboard & Western Classical Theory at Trinity College London, and holds a Senior Diploma in Hindustani Classical Music. 
Started to learn Carnatic Music at the age of 3.5 & has 25 Years of experience in the field of Music. Her 1st performance was at her age of 5 & performed 1100 Shows in Carnatic Vocal, Fusion, Carnatic Keyboard, Bhajan, Indie Music, Film music etc  including a JugalBandhi Concert with Pt. Hariprasad Chaurasia, Paris, France. 
She holds 80+ Records & Albums to her credit in the genres such as World, Pop, Carnatic Classical Vocal/Keyboard, Electronic, Spiritual/Devotional, Fusion, Contemporary music.
She composes, produces music & sings for a number of Albums, Idents, Scores, Short Films, Documentary in various languages. 
Recently, she produced a new World-Pop Single for California-based Filmmaker and A-List Photographer Nick Saglimbeni of Slickforce Inc. 
She has collaborated with LA based producer Indian Trap aka J2 as a Singer-Songwriter (Top-line melody) to produce the album "Mantras I". 
Currently, she is signed to score music for the Indian Tamil movie titled "Vadakkan". 
She scored music for a Tamil Movie "Prabha", for which her Guru Late Dr. M. Balamuralikrishna rendered his final Playback Song.
She has collaborated and performed with Legends & Musicians from India, and collaborating with Musicians globally.